Attendees will be contacted via e-mail in the days before the event with the Zoom links and a guide to using Zoom for those who are unfamiliar with it.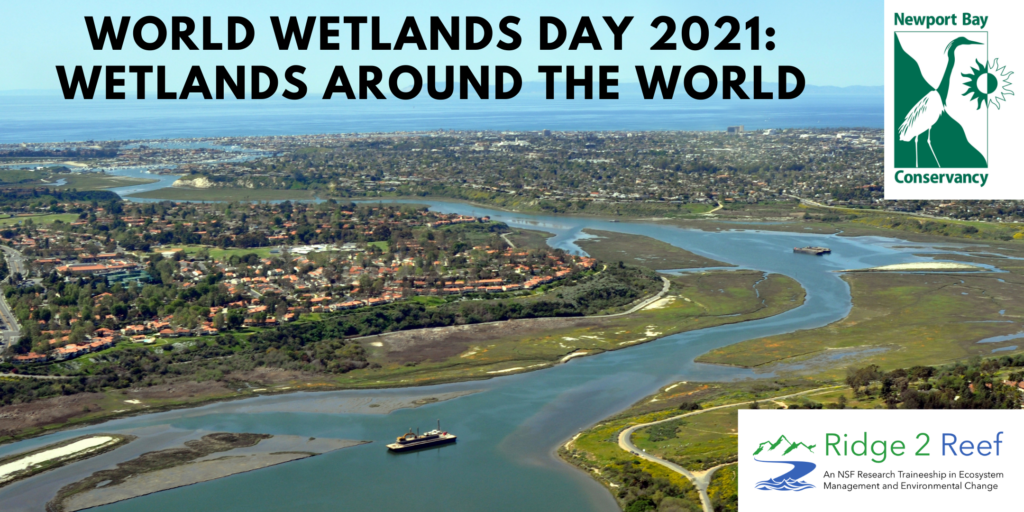 In 1971, the first Convention on Wetlands was held in Ramsar, Iran, and established an international treaty for the conservation of wetlands and the sustainable use of their resources. Wetland sites recognized as of international significance are therefore known as "Ramsar sites." On the 50th anniversary of that convention, we are celebrating that international agreement, and making the most of our remote format, by bringing together speakers from wetland sites all over the world. In three 90-minute zoom webinars over the weekend of 6th-7th February, we will learn about what makes each site unique, as well as the common challenges facing these valuable habitats in coming decades.
To learn more about Ramsar, visit their website here: https://www.ramsar.org/
Newport Bay Conservancy is currently working on an application for Ramsar designation for Upper Newport Bay. This would designate the Bay as a "Wetland of International Importance," especially as a habitat for waterbirds. Locally, the Tijuana Estuary Bolinas Lagoon, Elkhorn Slough, Laguna de Santa Rosa Grasslands Wildlife Management Area in the San Joaquin River basin, San Francisco Bay estuary, Tijuana River estuary and Tomales Bay all have Ramsar designations. Newport Bay Conservancy looks forward to submitting the application in 2021.
Saturday, February 6th, 2020
9 AM – 10:30 AM PST
South Africa & the United Kingdom
9AM – 9:45AM: Dr. Dirk van Driel
Director, UNESCO West Coast Biosphere, South Africa
Saturday morning's first speaker, Dr. Dirk van Driel, is the Director of the UNESCO West Coast Biosphere, South Africa. Dr. van Driel is currently a water and sanitation specialist (WATSAN) who uses his innovation and acumen to bring clean water and waste facilities to people living without these basic necessities.
9:45AM – 10:30AM: Dr. James Robinson
Director of Conservation, Wildfowl and Wetlands Trust, Slimbridge, UK
Dr. James Robinson is currently WWT's Director of Conservation, based at Slimbridge in Gloucestershire. He had previous roles as the RSPB's Director for Eastern England, Head of Nature Policy, Director for Northern Ireland, and Conservation Manager for Northern Ireland, at WWT as Head of Wetland Biodiversity Unit, as Research Assistant at the University of Durham and as Lecturer at Bishop Burton College. WWT's vision is a world where healthy wetland nature thrives and enriches lives; to conserve, restore and create wetlands, save wetland wildlife, and inspire everyone to value the amazing things healthy wetlands provide for people and nature.
Saturday, February 6th, 2020
4 PM – 5:30 PM PST
Australia & South Korea
4PM – 4:45PM: Christine Prietto
Hunter Wetlands Center, Australia
Christine Prietto resides in Australia and has worked in wetland education for 25 years. Ms. Prietto began her career in wetlands at Hunter Wetlands Centre Australia (HWCA), Newcastle, NSW. HWCA is Australia's first dedicated wetlands centre, registered as a community-owned not-for-profit company. Ms. Prietto has filled many roles at HWCA, including Principal of the school education program, Board Director and Chair, and most currently HWCA Ramsar Officer. Involvement with HWCA has provided Ms. Prietto with significant experience in community participation in wetland restoration and management. In 2001-2002 Ms. Prietto oversaw Ramsar-listing for Shortland Wetlands as an extension of the existing Ramsar site.
4:45PM – 5:30PM: Suh, Seung Oh
Executive Director, Ramsar Regional Center – East Asia Suncheon Bay
Mr. Suh Seung Oh currently serves as Executive Director of the Ramsar Regional Center – East Asia (RRC-EA). He is an experienced wetland practitioner and has been actively involved for many years in regional and global discussions on the implementation of the Ramsar Convention. He has been instrumental in the development and adoption of Ramsar Resolutions on the Ramsar Site Management Effectiveness Tracking Tool (R-METT) and Wetland City Accreditation of the Ramsar Convention, among others. Mr. Suh is also presently a member of several international bodies such as the International Steering Committee for Asian Wetland Symposium 2021 and the Independent Advisory Committee for Wetland City Accreditation of the Ramsar Convention. Prior to joining the RRC-EA, he worked at the Gyeongnam Ramsar Environmental Foundation as Deputy Section Manager. Mr. Suh holds a Master's degree in wetland ecology.
Sunday, February 7th, 2020
Sunday Morning, TBA
The Americas
10:30 AM – 11:15 AM: Dr. Bill Mitsch
Eminent Scholar and Director, Everglades Wetland Research Park, Florida Gulf Coast University, Chair of U.S. National Ramsar Committee
Dr. Mitsch's research has focused on wetland biogeochemistry, wetland creation and restoration, ecological engineering, and ecosystem modeling. Before October 2012 he was Distinguished Professor of Environment and Natural Resources at The Ohio State University and Director of the University's Wilma H. Schiermeier Olentangy River Wetland Research Park. Dr. Mitsch has authored or co-authored over 600 papers, books, published abstracts and other publications in ecological and environmental science. He is also the Chair of the US National Ramsar Committee.
11:15 AM – 12:00 PM: Professor Christine Whitcraft
California State University, Long Beach
Christine Whitcraft received her PhD from the Scripps Institution of Oceanography at UC San Diego and completed her post-doctoral work at San Francisco State University and the San Francisco Bay National Estuarine Research Reserve. She is also the Director of the Environmental Science and Policy program at CSULB. She is interested in how human activities influence the structure and function of coastal wetlands, particularly food webs. Her projects include work on the impacts of non-native and invasive species, altered hydrology, climate change, and restoration in fields sites from Baja to San Francisco.