The Ridge 2 Reef (R2R) training program is a national need for science-based environmental management in urban complexes like southern California where large human populations interact with valuable natural resources. A parallel workforce need exists for graduates trained with the skills to inform or become practitioners who implement management solutions. The UCI Ridge 2 Reef (R2R) training program aims to help meet these national needs.
Overview
R2R will train graduate students in the process of convergent science whereby engineers, scientists, and practitioners co-develop research priorities to solve common problems. The R2R curriculum will focus on interdisciplinary knowledge, professional development, and communication skills. An environmental solutions practicum will facilitate cross-disciplinary interaction to address real-world management problems. Data science and other skills training will be provided through a summer institute that will also engage practitioners with workshops and symposia. A Research in Action Internship (RAIN) program with practitioner partners will build career skills while training students to apply knowledge in a management context. Trainees who complete program requirements and an internship will receive a Certificate in Ecosystem Management and Environmental Change to facilitate career placement. Outstanding PhD trainees may receive a one or two year R2R Fellowship that includes tuition and stipend support.
Vision
Our training vision is to address management challenges in urban complexes by developing a scalable, interdisciplinary training program. We will train students in the practice of convergent science, defined as a holistic approach for sharing tools, concepts, and aims across disciplines to achieve shared human goals (Bainbridge and Roco 2016). We will build the program to complement convergent research at UCI where practitioners and academics from multiple disciplines work together in teams to address management problems. We define practitioners broadly as individuals or entities who implement ecosystem management strategies, including resource managers, policy-makers, decision-makers, and stakeholders from the public or private sector. We will equip graduate students with the skills to communicate with practitioners and pursue careers in ecosystem management. Our training program will be assessed and institutionalized so that its elements can be exported beyond UCI.
Our training elements will be built on a foundation of existing programs and infrastructure. UCI has established centers of excellence in terrestrial ecosystems, water quality, and ocean processes under global change. We envision a training program that catalyzes the integration of these centers while solidifying their connections to practitioners and scaling up management and educational innovations. These characteristics are analogous to business incubators that bring concepts to market by catalyzing interactions amongst the public, private, and non-profit sectors (OECD 1999, Wiggins and Gibson 2003, Muindi and Keller 2015). In light of this analogy, we identify our project as the Ridge to Reef Training Incubator, or R2R. This name conveys our vision for convergent research training in an explicit geographical context (Fig. 1) based on our institutional centers of excellence.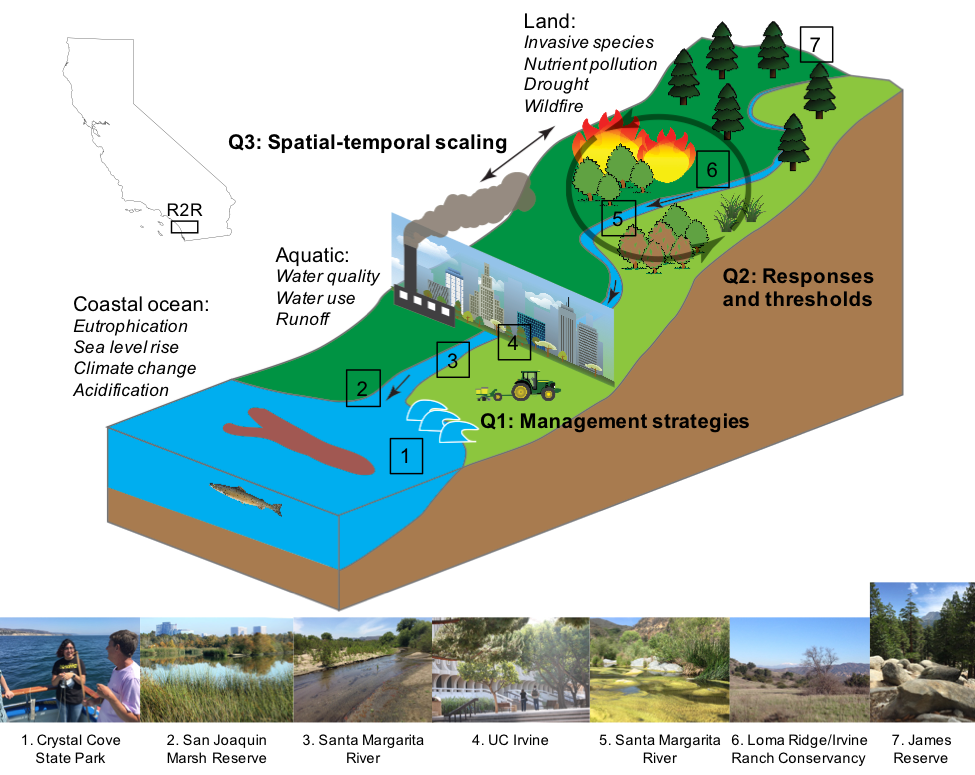 The overarching goal of R2R is to develop and disseminate an interdisciplinary, evidence-based model for graduate training in ecosystem management. We aim to train students who reflect the demographic diversity of California and match workforce needs locally and nationally. R2R integration with existing centers of research excellence at UCI will promote scalability, accessibility, and institutionalization of program training elements. Robust assessment tools will be applied to ensure that training is effective and project goals are achieved.
Project Goals
Specifically, R2R aims to:
Develop trainees' interdisciplinary skills and scientific knowledge to facilitate management of ecosystems under environmental change
Increase trainees' transferrable quantitative, communication, and professional skills
Build partnerships to enhance career placement and effective knowledge transfer
Broaden participation in the pipeline of graduates pursuing urban environmental careers
Needs
Research universities excel at making discoveries, but they also have a responsibility to train scholars who can apply knowledge to societal challenges (Duderstadt 2012). Our project goals will address both scientific and workforce needs related to the challenge of urban ecosystem management. Science-based solutions to these problems have been limited by disciplinary boundaries that inhibit systems-level analysis (Postel 2000, Schenk et al. 2009). Infrastructure has traditionally been the domain of engineers, whereas natural scientists have developed concepts based on unmanaged or agricultural landscapes. A new generation of researchers with convergent training in science, engineering, and management practice is needed to address environmental problems in urban complexes (Ahern 2013).
In the workforce, employers need graduates with training in a much broader range of skills than current academic programs typically emphasize (Thursby et al. 2009). Practitioners need solutions to real- world problems, often at local scales. Yet academic institutions tend to focus on big-picture concepts and education. To bridge this divide, academic programs must involve practitioners in the visioning and implementation of graduate research and education. Practitioners must participate in experimental design, field data collection efforts, and modeling scenarios to evaluate alternative strategies using a systems- level approach (Felson and Pickett 2005). Students must have the skills to overcome legal, political, and institutional impediments to ecosystem management.
Institutional Resources
In addition to our strong degree programs, we will leverage UCI centers of excellence to accomplish our goals in research, training, and institutionalization. Relevant centers and programs include the following:
R2R has access to an extensive network of practitioners and infrastructure to support convergent research. UCI-NATURE manages a network of field-based infrastructure in the southern California urban complex, including three UC Natural Reserves. Our region hosts some of the world's most progressive natural resource governance as exemplified by the Natural Communities Coalition (NCC), which is creating an integrated, regional approach to habitat conservation planning. Multiple agencies and NGOs are pushing the boundaries on environmental assessment, including the Southern California Coastal Water Research Project (SCCWRP), a joint-powers agency that conducts solutions-oriented research on water quality. R2R will catalyze community engagement by positioning UCI as a hub for solutions-based science with strong links to these practitioners.