Karina Brocco French is a current PhD student and National Science Foundation Ridge to Reef (R2R) Fellow in the Department of Ecology and Evolutionary Biology at the University of California, Irvine. She is interested in science policy and urban ecosystem management.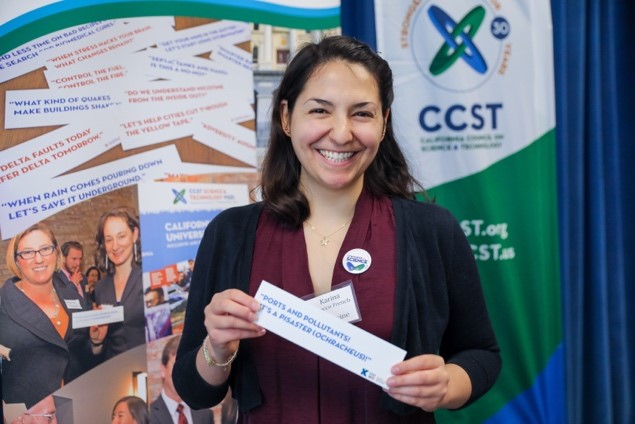 Here in Southern California, we live near the busiest container port in the Western Hemisphere: The Port of Los Angeles. That is a lot of packages from online shopping! In order to keep those imports coming and continue fueling American and world-wide commerce, cargo ships must be in prime condition. One way the shipping industry maintains its cargo ships is by coating them in special protective paint.
In the 1950s, the shipping industry began covering the hulls of ships with this special protective paint because it has chemicals that prevent barnacles and other sea life from damaging and slowing the ships. Unfortunately, the chemicals do not stay in the paint. Instead, these toxins contaminate our ocean waters through a process called leaching. These chemicals, known as tributyltins (TBTs), cause respiratory illness and skin irritation in humans, and damage the immune system and hormone levels in animals. In recent decades, the United States and some other countries have banned TBTs. However, illegal use, old paint still on boats, and the long-lasting effects of TBTs already in the water make this chemical a current threat to our marine life and our livelihoods.
I am Karina, a 2nd year PhD student in the German Lab at the University of California, Irvine, researching how these chemicals affect important coastal animals: sea stars and sea urchins. My results will lead to a better understanding of the damage current TBTs are causing to our sea animals and their habitats. The scientific research is one part of the puzzle we need to solve so we can best protect our natural resources and ports along our coastlines. Another vital puzzle piece is the policy we use to mitigate the impact of TBTs on our sea animals going forward.
In the fall of 2019, I began conducting informational interviews to learn more about the field of science policy. One of those conversations led me to a Policy Fellow at the California Council on Science and Technology (CCST), who introduced me to the CCST Science Translators Showcase. The CCST Science Translators Showcase is a program designed to provide early-career scientists interested in science policy and communication with the chance to share their research with policy makers. This seemed like a great opportunity to get my feet wet in the policy world.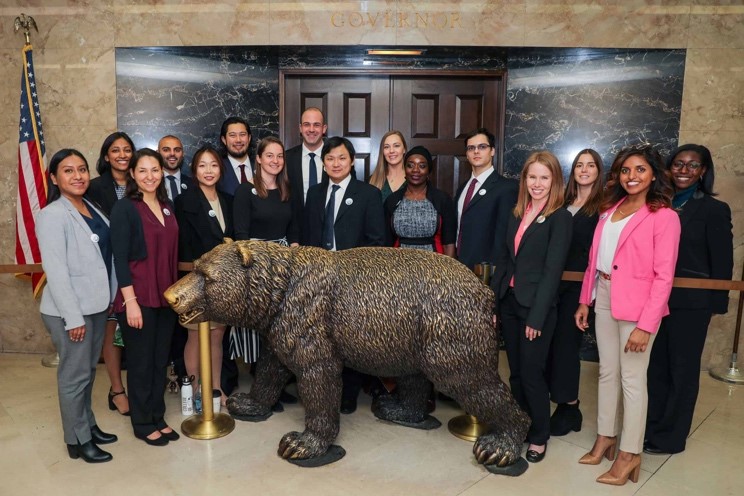 I participated in webinars hosted by CCST staff to learn how to approach legislators and their teams with my research. The month of preparation culminated in a day of discussions and networking at the California State Capitol in Sacramento. I served as a Science Translator for CCST along with 19 other researchers across California state institutions.
Standing in the governor's office, I discussed TBTs and the importance of protecting our oceans with State Assembly members, policy experts serving the State Assembly, and CCST Policy Fellows. I spoke about the impact of toxins from the Port of LA on our marine fauna and the importance of using evidence-based policy to manage our coastal ecosystems. Two policy experts mentioned that creating a bill addressing the TBT issue would be feasible. I aim to apply my research via policy, and hearing policy-makers understand the value of my work made me that much more excited to continue my dissertation and take the data and its importance beyond academia.
Throughout my experience as a CCST Science Translator, I was challenged to learn how to communicate my research to everyone from an environmental conservation enthusiast to a resistant climate change denier. As a CCST Science Translator, I learned how to use accessible language to describe what I do and how to relate my research back to the human experience. Even though I have a very specific project, I found new ways to share stories about the beaches we all share and enjoy together. With these stories, I was able to connect with policy makers on a personal level and bring my research to life.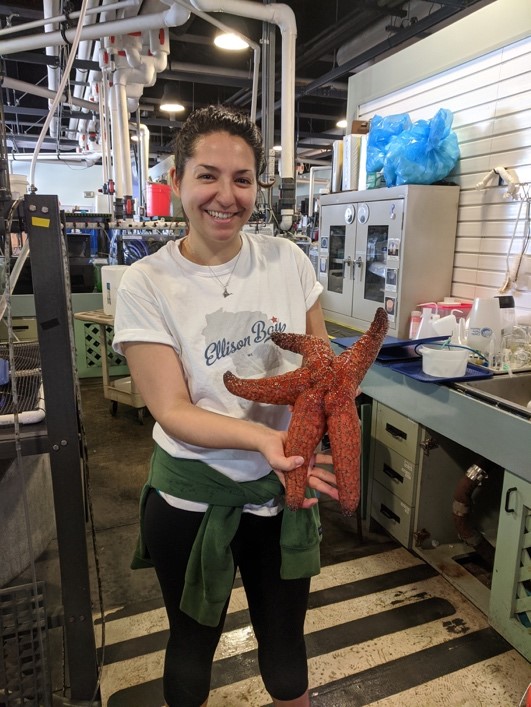 The CCST Science Translators Showcase exposed me to the world of policy, and I am now better equipped not only to continue my activities as a R2R Fellow, but also to vote on environmental issues and inform local policy positions as a member of the Orange County League of Women Voters. As for my continuing path as a PhD student, I know my research on the effects of TBTs on sea stars and sea urchins will be a criticalpiece of the puzzle as we try to solve issues of environmental conservation in ways that are inclusive and sustainable. Being a CCST Science Translator showed me the interface between academia and policy, and fueled my drive to eventually use my scientific expertise to help craft evidence-based policy that ensures our community's health and that of our invaluable oceans.